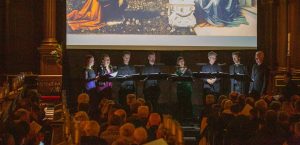 When people see full houses at the Cambridge Music Festival, they might assume we must be making money. In fact, ticket sales cover only 30% of the cost of hiring exceptional artists and running the festival. For the other 70%, CMF relies on the generosity of individual donors and corporate sponsors.
And all that is in normal times, in a year without Covid-19.
With the effects of the pandemic, CMF needs your support more than ever.
All areas of income have been hit – ticket income, donations, sponsorship – and CMF receives no public funding (nor any support from the ACE's Cultural Recovery Fund) while alternative sources of income, such as online events, fall a long way short of what we need to pay the artists and cover costs.
Do please support us if you can. Every donation matters. Thank you.