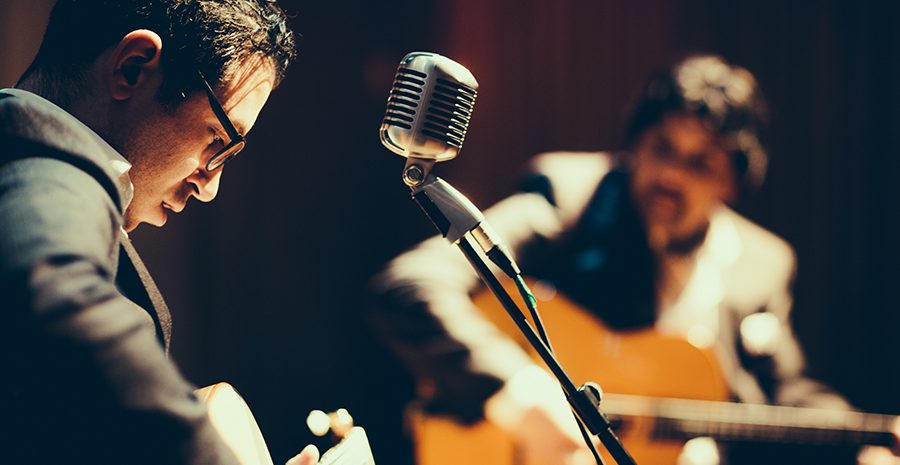 Behind the music: stories from CMF 2019 – Hot club jazz from the ashes
Hot club jazz from the ashes
Trio Manouche and Friends bring Django Reinhardt's free-spirited jazz to the Cambridge Music Festival on 14 November. But the music might never have existed had it not been for a personal disaster, 91 years ago.
In 1928, Jack Hylton, the celebrated British band-leader, travelled to France to hear a talented teenager who was making his name on the banjo-guitar. He found him living in a Romani encampment on the outskirts of Paris with his young wife, and after hearing him play, immediately offered him a job. Django Reinhardt accepted.
Who knows how things might have turned out if Reinhardt had become part of Hylton's touring orchestra – but as it was, disaster not only prevented him from doing so, but ultimately transformed jazz. On the night of 2 November, as Reinhardt and his wife were going to bed, a candle was knocked over and set the wagon where they lived alight. The couple escaped, but Django was badly burned.
The prognosis was not good. Doctors said that the young musician would have to have his leg amputated – he refused, and subsequently walked with a cane. He also damaged two fingers on his left hand, and was told that he would almost certainly never play the guitar again.
Django refused to be defeated by that, too, and completely remodelled his style so that he only used the two damaged fingers for chords, and played everything else on the other two. The fire didn't just damage him: it broke the marriage, and after his wife left him, he spent months travelling around France, playing small clubs. Gradually, he discovered jazz, then fell in with a young violinist, Stéphane Grappelli. The two started jamming, then formed a band. The Hot Club of Paris was born.
Today, Django Reinhardt and hot club jazz (sometimes known as 'gypsy' jazz, acknowledging his Romani-French origins) are the stuff of legend; fast, free-spirited, heart-stopping music that inspired multiple generations of guitarists, and is still celebrated in 'Django festivals' all over the world. Come and experience it for yourself when Trio Manouche and Friends – a Hot Club-style quintet featuring violin, guitars, accordion and bass, bring classics like Dark Eyes, Minor Swing and Nuages to the Cambridge Music Festival on 14 November. How different it might have been if disaster had not struck, 91 years ago.
Trio Manouche & Friends play the music of Django Reinhardt, as well as Nat King Cole, and more, at Emmanuel United Reform Church on Thursday, 14 November, 6pm – 7.10pm. Tickets are £15, and include a drink that can be taken into the concert. Book now