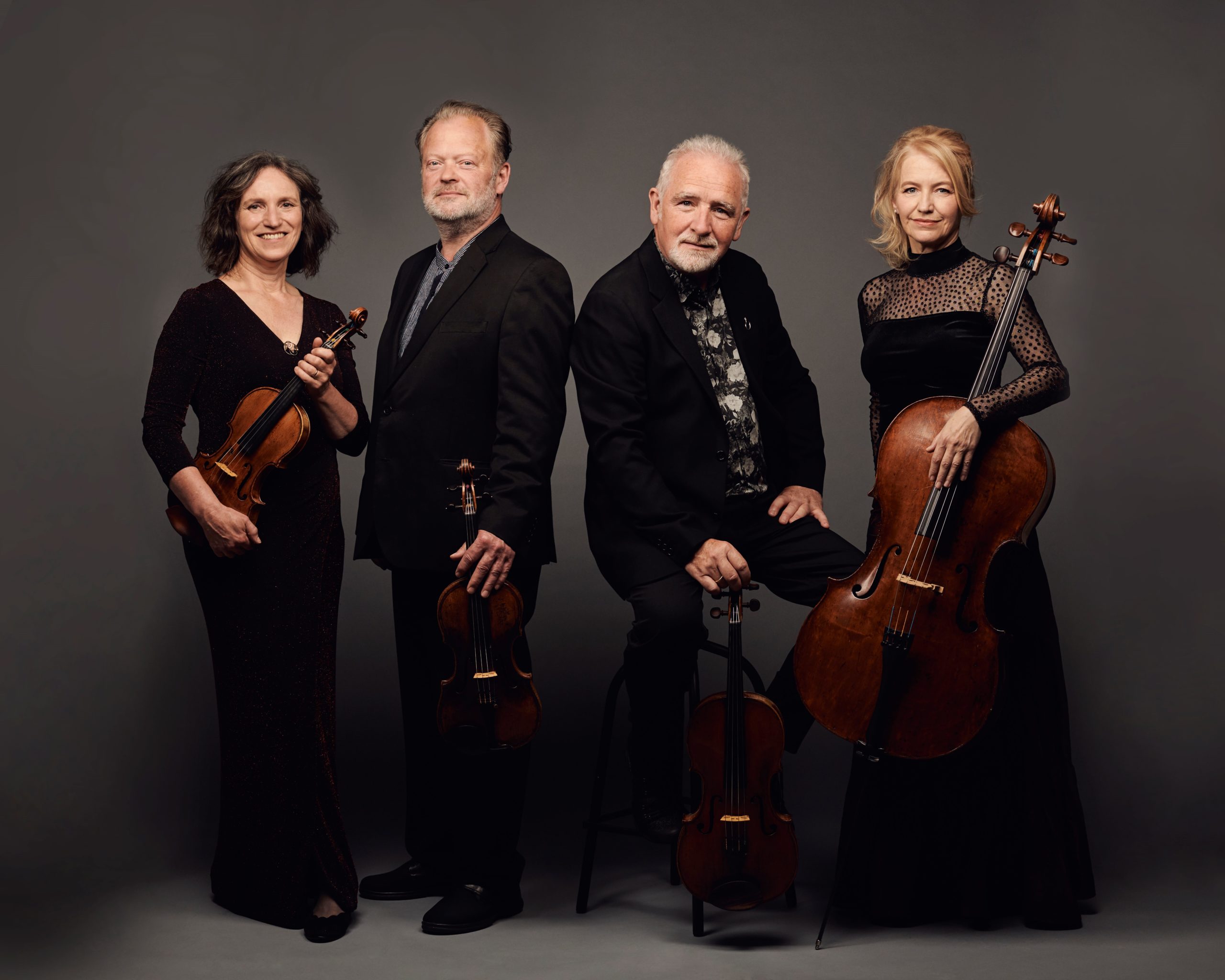 Meet Paul Cassidy of Brodsky Quartet
A interview with Paul Cassidy, viola player with Brodsky Quartet, introduces the music from their concert on 22 February. Paul is pictured second from the right with the Brodsky Quartet.
On 22 February you're playing three of Shostakovich's string quartets (nos. 1, 8 and 15). Can you tell us about how these works reflect the composer's relative stages of life at the time of their composition, and how political events influenced his music?
Shostakovich began his extraordinary cycle of string quartets just after the birth of his son, Maxim. He begins very tentatively, in C major. The work is rather like a test he set himself but the end result is nevertheless both enchanting and exciting.
His 8th quartet is probably his most famous and is one of the most powerful pieces of music I know. Written when he was at his lowest ebb, suicidal even, it takes the form of his own epitaph. He had just been coerced into joining the Communist Party, and to make matters worse, found himself in Dresden where he witnessed first hand, the devastation caused by the Allied bombing of this once beautiful city.
No.15, the last in this monumental series, is the composer's final thoughts on life itself. One imagines it was inspired by Haydn's masterpiece, 'The Seven Last Words on the Cross' it is however more of a secular outpouring. Experiencing this piece, whether listening or performing, is one of the most profound journeys in all of music.
What should the audience listen out for in these quartets?
In No.1, listen out for the little childlike games in the first movement. The folk tune that is the second movement. Imagine the said child in a snow scene for the third movement and in the finale, that same child getting a bit bigger and throwing his toys out of the pram!
No.8 is of course characterised by Shostakovich's use of his own musical motto – DSCH, which clearly opens and closes the work, but is in fact there throughout in many different, ingenious guises.
No.15 is a Zen-like experience. Don't listen out for anything. Just relax, let yourself go where the music takes you.
What do you enjoy most about playing with Brodsky Quartet?
The work is endlessly challenging on a personal and group level. Preparing for every performance is almost always enlightening and the concerts themselves, exciting and rewarding. Having inspiring and wonderful colleagues, who are all as crazy and passionate about their art doesn't exactly hurt.