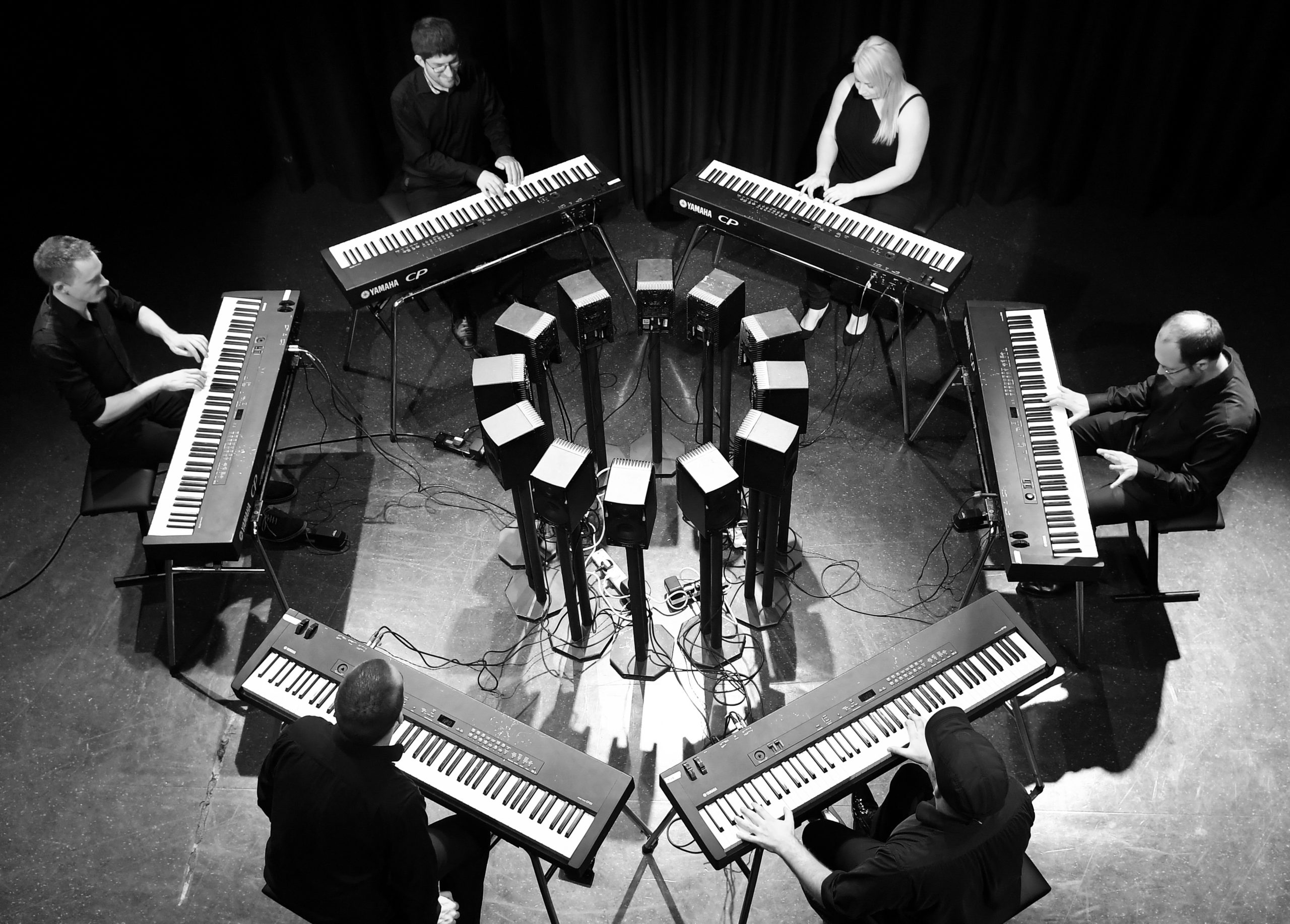 Meet James Young of Piano Circus
Ahead of Piano Circus' concert on 9 March, pianist James Young talked to us about how the ensemble was founded, what's so special about Steve Reich and what to expect from the concert.
What is the story behind Piano Circus and how/why it was founded?
Piano Circus was founded in 1989 by a group of music students at Edinburgh University led by composer Max Richter who, fascinated by the concept of Steve Reich's 1973 work Six Pianos, decided to put on a performance of it—a rare occasion and the first to use electric keyboards—at an art exhibition at the Edinburgh Fringe. They commissioned their first new work for six pianos as a companion piece for this event: Simon Rackham's ultra-minimal Which Ever Way Your Nose Bends. Subsequently the group quickly became a fixture of the UK's new and alternative music scene, beginning a commissioning drive that has resulted in to date well over 100 works exploring the myriad possibilities of music for six pianos.
What makes the music of Steve Reich stand out from other 20th century composers?
From a purely academic point of view, Reich's exploration of the concept of phasing (overlapping two identical musical objects against each other at various time intervals to create complex resulting patterns) alone would be enough to secure his position as a stand-out contributor to the progression of 20th century music, but this together with the rest of his rhythmic and harmonic innovations, his exaltation of pulse, unfailingly irresistible aesthetics, influences from West African drumming, jazz and bebop and his fundamental naturalness and generosity as a composer—he really wants the audience to enjoy themselves—place Reich's influence and breadth of popularity well above those of the majority of composers of his generation.
Will you really have six pianos on the stage?
As two of the pieces on the programme require organs, we will be using our six trusty Yamaha stage pianos for this concert.
Which part of the programme takes your breath away?
This is one of Piano Circus' most intense and concentrated programmes, charting Reich's compositional development between the seminal Piano Phase of 1967 and the explosive culmination of all his previous work, Music for 18 Musicians of 1974.
All of tonight's music can be seen as the embodiment of Reich's early essay Music as Gradual Process, in which he states: "I am interested in perceptible processes. I want to be able to hear the process happening throughout the sounding music."
This leaves us with breathtaking moments that are often tiny changes which elicit dramatic perceptual responses in an immersed listener, such as: when the texture finally phases into a dense, throbbing mass with all the beats saturated with notes in Phase Patterns; or when approaching the end of Four Organs the glorious chord has become so monstrously extended that you forget ever having listened to anything else, only to be suddenly dropped into a silence which feels like no other; or when we hit the 'Big Shift' in Six Pianos which heralds the final, inexorable jive to the end.
Hear Piano Circus playing Steve Reich on 9 March at Fitzwilliam College Auditorium. Tickets