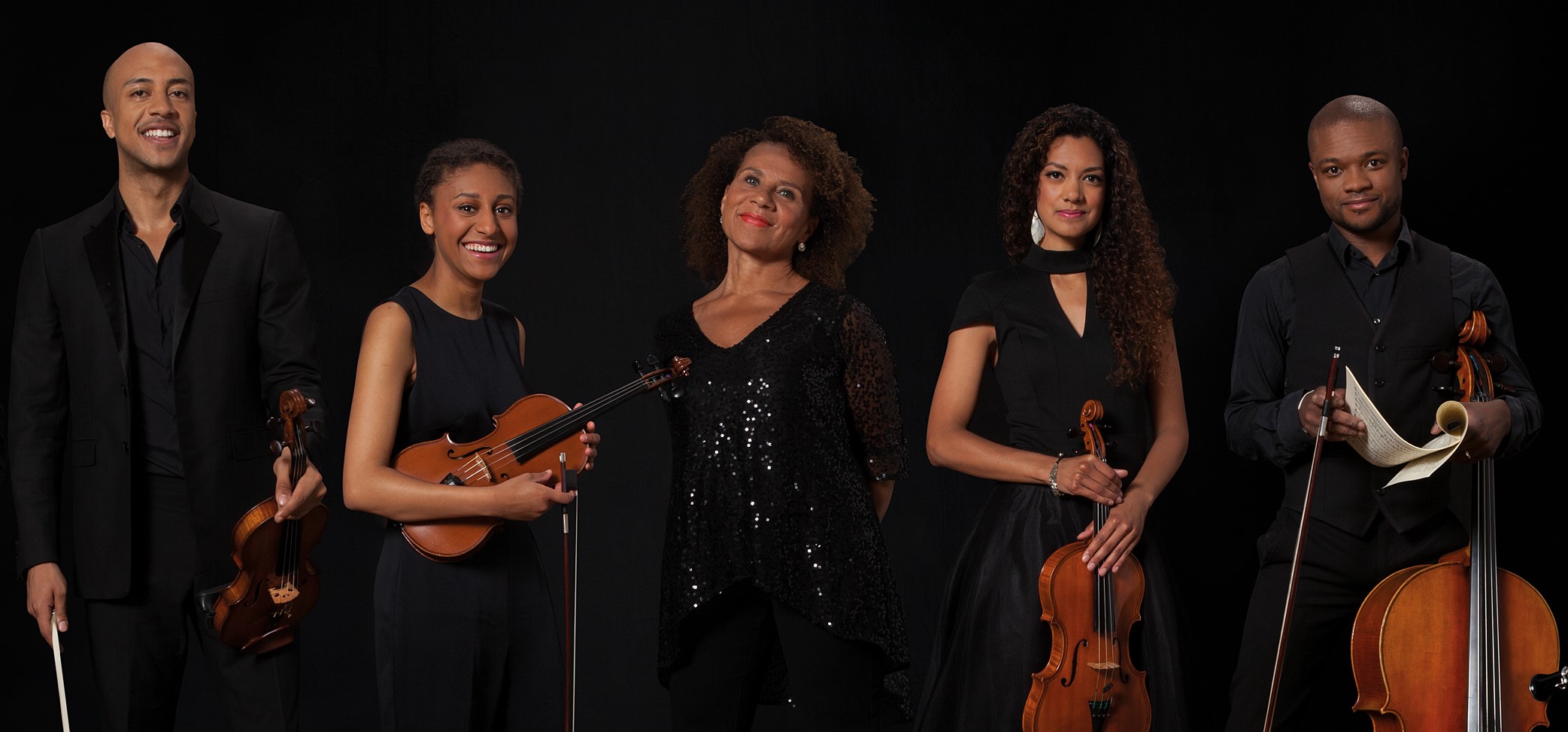 Meet the players from Chineke!
We asked the players in Chineke! some searching questions about themselves and the music they will be performing on 21 June. From recorder practice in the back of the family car to recording film scores during lockdown, they tell us what makes them tick. We definitely want to be invited to a Chineke! dinner party, with all these talented cooks!
Stewart Goodyear, piano
Chi-chi Nwanoku OBE, double bass
Zara Benyounes, violin
Stephen Upshaw, viola
What's your first musical memory?
Stewart: My first musical memory was hearing Stravinsky's Rite of Spring on a stereo in the living room. Apparently, my mother saw a production of the ballet when she was 11 months pregnant with me…I cannot say whether my memory stretches that far!
Chi-chi: Being taught to sing, 'Twinkle, twinkle, Little Star' by my father as he held me in his arms looking at the stars in our village in Imo State, Nigeria. I was about 21/2 years old.
Zara: Playing recorder in the back of the car on any journey – to school, to the shops, to visit family. Playing along to a tape or the radio. Mum must have had the patience of a saint to drive in those conditions.
Stephen: Standing on the hearth of the fireplace at home waving my little hands around "conducting"
to Mozart playing through the sound system (there is video evidence much to
embarrassment) / listening to Beethoven every night with my dad before going to sleep.
What instruments did you play as a child and what did you like/dislike about them?
Stewart: I played the piano, violin and recorder as a child. I loved the sound of both the piano and violin, and wanted to play the violin just to learn my, at the time, favourite concerto ever, Tchaikovsky's Violin Concerto. I felt more natural around the piano, however, and it has always been my main instrument ever since I was 3.
Chi-chi: Recorder & piano, and I loved everything about them, because it was so satisfying & exciting from bringing an inanimate object to life that gave so much back, and also playing & discovering harmony in recorder ensembles with my primary school friends.
Zara: Violin, piano, singing and even briefly the harp. I was always much more into the violin but I enjoyed the pet cats my piano teacher had.
Stephen: I tried the recorder in year 4 and absolutely hated it and the "general music" class we were forced to learn it in. I then chose to join the school orchestra a few years later, discovered the viola (I never played the violin!) and have been in love with it ever since.
Who has been the greatest musical influence on your life so far?
Stewart: Sergei Rachmaninov and Ray Charles.
Chi-chi: Sir Simon Rattle, Franco Petracchi & music itself.
Zara: Gabor Takacs-Nagy. I studied for 2 years with him at the Conservatoire de Genève with my string quartet.
Stephen: There have been so many! Each of my teachers has given me so much, but none of it would have happened without the initial guidance of Dr. Marilyn Seelman, the viola guru of Atlanta, with whom I studied in high school. She changed everything for me.
How have you kept yourself busy during the last year of restrictions?
Stewart: Lots and lots of composing…This season brought a whole range of emotions. I was lucky to have had quite a few virtual performances, and to work with wonderful musicians during this season. There have also been a few commissions that I have fulfilled as a composer. Playing for audiences face to face was what I missed the most about last year…There is a spark and energy that is beyond comparison.
Chi-chi: Creating & devising ways to keep Chineke! & music alive for the orchestra & our audiences.
Zara: I really got into wild swimming and spending more time outdoors walking, and running. Like the rest of the UK in lockdown I got into baking and gardening. Musically I was lucky enough to get stuck into a mix of projects – mainly recording – ranging from premieres of new works by John Woolrich with my quartet, to some new chamber music albums with the Piatti quartet, to home studio recording violin and viola for commercial producers, and TV and film scores.
Stephen: Like everyone, I was doing lots of recording / livestreams. I'm also lucky that most of my career involves playing chamber music so I was still able to rehearse / perform / record with my colleagues who live locally to me.
What is your favourite music to perform and why?
Stewart: My life as a pianist began with Beethoven, and every opportunity I have to perform works of that composer feels like a baptism of fire and water. Saying that, I love performing works of every composer, and it is therefore very difficult to pick a favourite music.
Chi-chi: Samuel Coleridge-Taylor because his music is so touching. It's clear that everything he wrote really came from his heart. I also love playing Beethoven's music. because of the immense variety & structure in his works & how they always transport me into extraordinary journeys.
Zara: I love to play the core works and masterpieces from the string quartet repertoire – I have led the Benyounes Quartet since 2007 and particular favourite works are Bartok 2nd quartet, Beethoven 131 and Brahms C minor. I love that it is just the four of us on stage but we can create such a huge palette of colours.
Stephen: I love the quicksilver energy, vitality and youthful fearlessness of Mendelssohn's chamber music, the beauty and power of Jonathan Harvey's ensemble works and the primal pyrotechnics of Luciano Berio's viola music (I'm looking at you, Sequenza!).
What music do you enjoy listening to apart from classical?
Stewart: Calypso, jazz, hip-hop, blues, and rock.
Chi-chi: HIghlife, soul & reggae.
Zara: I probably listen to quite a range but these artists I particularly love – Cat Stevens, Nina Simone, Ella Fitzgerald, Whitney Houston, Beyoncé, Frank Sinatra, Sly and the Family Stone and you would often catch me playlisting 90s/2000s R&B
Stephen: Mostly R&B, Jazz, Soul and electronic music
What's your greatest skill outside music?
Stewart: I believe that if I was not a musician, I would be a film director. Cinema fascinates and intrigues me, and I am always reading about how a film is made. I have a huge respect for how film directors tell a story, and, through images, how they bring a story to life. In other news, I cook a dynamite callaloo, if I may say so myself!
Chi-chi: I was a national sprinter in my youth, & I'm not a bad cook these days!
Zara: I think I'm a pretty good cook.
Stephen: I love meeting new people, learning about their passions and connecting them to other people.
What do you especially like about the pieces you're going to play at CMF 2021?
Stewart: That they are pieces designed for intimate connections between the musicians and the audience…I also love that we are playing these particular pieces when the weather is (hopefully) getting warmer in the UK!
Chi-chi: It's a privilege to play the music of Florence B. Price; a woman who kept going, writing beautiful inspirational music as a Black woman at the heart of Jim Crow times. Schubert is one of history's greatest song writers & this was also in his instrumental writing – we all love a good tune! The Trout quintet is timeless.
Zara: The huge range of emotions and the immediacy and intimacy of the works.
Stephen: Schubert is also one of my all time favourite composers so any opportunity to play the "Trout" is a treasured one! I'm also a great lover of Florence Price's music and hearing these songs reminds me of being in rural Georgia with my grandmother as a small child.
What should the audience listen or look out for in your concert?
Stewart: For every concert, I think that we musicians must listen and look out at the audience before beginning our performance…We then will know what to do to ensure an organic, wonderful, embracing and joyous experience for the listener.
Chi-chi: The dialogue between the instrumental voices in both pieces. It's what creates the wonderful musical conversations.
Stephen: The many (more than you've probably heard before) variations on the "Trout" theme.
You can only have one type of cuisine for the rest of your life – what do you choose?
Stewart: I refuse to choose only one type of cuisine for the rest of my life!
Chi-chi: Anything by Yotam Ottolenghi, and Egusi soup (Nigerian) – sorry couldn't stop at one!
Zara: Italian.
Stephen: Italian – give me that pasta!