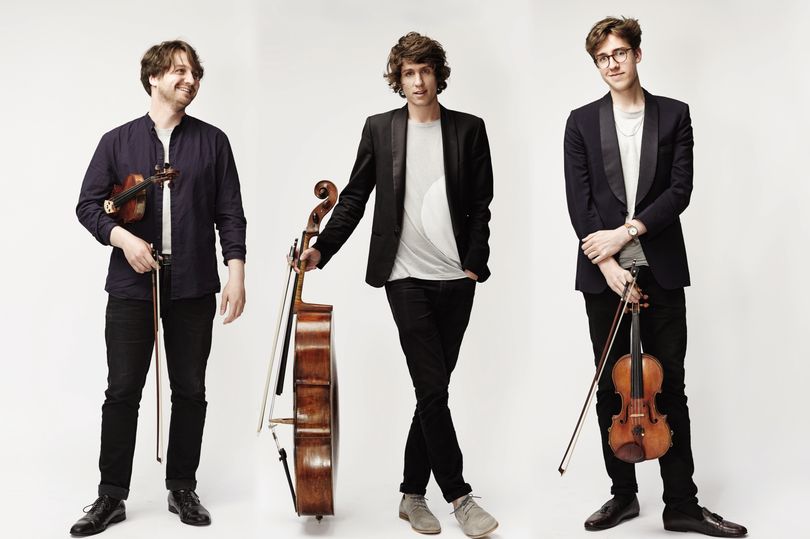 Meet players from 12 Ensemble
Ahead of their concert on 25 June we asked two members of 12 Ensemble about their musical influences, their listening tips for the concert, and of course, their favourite food. Eloisa-Fleur and Roberto tell us about listening to the Top 50, growing succulents and competitive eating…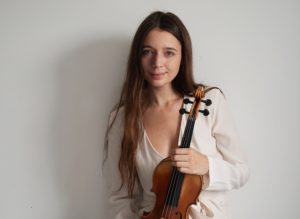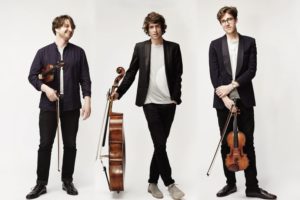 Eloisa-Fleur Thom, violin and Artistic Director of 12 Ensemble
Roberto Ruisi, violin (on the right, with brothers Alessandro & Max)
What's your first musical memory?
Eloisa: Listening to my mum play the piano at home.
Roberto: My first musical memory was hearing my father blast out 'Hocus Pocus' by the band Focus. He would play it in the car on the way to pick up my brother, Max. I insisted upon listening to it on repeat for about two years straight, much to his and everybody else's annoyance. I'm not sure I've listened to it since!
What instruments did you play as a child and what did you like/dislike about them?
Eloisa: After a brief stint on recorder I started the violin aged 5. I wanted to play the violin because I
liked it's unusual shape and then later fell in love with making sounds!
Roberto: I played the violin and the piano. I preferred the piano because it was harder to break – I have a distinct memory of sitting on my bow and snapping it by accident when I was about three years old. But I loved the sound of the violin, and found it came more naturally.
Who has been the greatest musical influence on your life so far?
Eloisa: Too many musicians to name just one!
Roberto: My first violin teacher, Lucy Akehurst. She taught everybody in Birmingham and instilled joy in playing with others. She had me playing in little ensembles from the age of three, and I found it to be some of the happiest moments of my childhood. It still is!
How have you kept yourself busy during the last year of restrictions?
Eloisa: Over the last year, like everyone else, I've spent a lot more time at home than planned..! I
had a lot of performances postponed or cancelled, but as the months went by we've been
lucky to continue to have some great opportunities with 12 Ensemble, performing several
livestreams for Wigmore Hall, a televised BBC Proms performance with Laura Marling as
well as some studio recording for film soundtracks. We've all missed performing to live
audiences so much and are so happy it's finally back!
Roberto: I've attempted to get better at the violin, but I've been most successful at learning how to make (and consume) every cocktail one could think of. Perhaps as a response to this, I've also started to run a lot.
What is your favourite music to perform and why?
Eloisa: I love performing chamber music, connecting onstage with other musicians and having a
shared sense of spontaneity really makes you feel alive!
Roberto: Beethoven's chamber music. If I had to play only one composers' chamber works for the rest of my life, it would be his
What music do you enjoy listening to apart from classical?
Eloisa: I like listening to lots of different genres, mainly alt-rock, folk, jazz.
Roberto: I listen to lots of things. Plenty of jazz, Keith Jarrett, Art Tatum. I always have a playlist on my Spotify of the current UK Top 50 songs – I like to think it keeps me in touch with what people are listening to. Sometimes it's a struggle, sometimes I'm pleasantly surprised.
What's your greatest skill outside music?
Eloisa: I love photography, art and growing rare succulents!
Roberto: Consuming food. I honestly think I could have been a competitive eater if the violin hadn't worked out.
What should the audience listen or look out for in your concert?
Eloisa: Caroline Shaw's Entr'acte is a brilliant piece filled with so much character and we all love
playing it! Her writing is so conversational and I think it highlights everything that is great
about 12 musicians playing together without a conductor! When Caroline talks about the
inspiration for Entr'acte – the minuets from Haydn's Op.77 String quartets – she says "I love
the way some music suddenly takes you to the other side of Alice's looking glass, in a kind of absurd,
subtle, technicolour transition." This really comes across through the piece, she captures the
quirky humour and elegance often found in Haydn's writing in her own modern compelling
way.
Shostakovich's Chamber Symphony, an arrangement of his 8th string quartet, is an incredibly
gripping piece. From lonesome haunting melodies to ferocious and relentless striking
chords, the five movements move seamlessly, and take the listener on a dark and
profoundly moving journey.
Roberto: I'm especially excited to play Entr'acte, by Caroline Shaw. We played this work at Wigmore a few months back, and it was in that concert when I realised how well this piece suits 12 Ensemble. It is an incredibly detailed work, and requires a very specific soundworld for all players to invest in.
You can only have one type of cuisine for the rest of your life – what do you choose?
Eloisa: Italian!
Roberto: Italian, specifically Sicilian. Of course!