Meet James Burke & Harvey de Souza from ASMF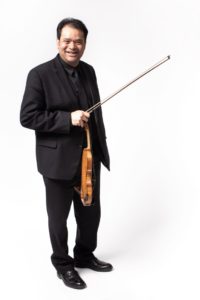 As we approach the opening concert of the autumn – The Academy of St Martin in the Fields (30 Sept) – we took aside James Burke (soloist in Mozart's Clarinet Concerto and Principal Clarinet of ASMF) and Harvey De Souza (Leader) to quiz them about their instruments, the repertoire from their concert – and their respective talents for woodwork and dishwashing! Given their answers to the last question, we're off to Harvey's for dinner (sorry, James).
What's your first musical memory?
James: It isn't my first musical memory, but I remember the first moment I knew I wanted to play in an orchestra professionally. I was in a youth orchestra, and we spent a week learning Sibelius' 2nd Symphony, and then performed it in a concert at the end of the week. When the big climax arrived in the last movement, the hairs on the back of my neck stood up – the orchestra felt alive, and I couldn't wait to feel like that over and over again.
Harvey: My father waking me up to the sounds of Heifetz on an old phonograph playing Brahms violin concerto asking "Who's playing and what's this piece?!"
What instruments did you play as a child and what did you like/dislike about them?
James: As a child I played the cello and the clarinet. I love the cello – the sound, the warmth, the repertoire, but unfortunately I found I needed to practice it so much more than the clarinet in order to
keep improving! So I stuck stuck with the easy one.
Harvey: Violin! I liked that I was the only child in the neighbourhood playing the violin. I disliked practising as I was the only child in the neighbourhood not playing cricket with my friends!
Who has been the greatest musical influence on your life so far?
James: There are too many to single any one person out, but my first teachers when I was first learning my instruments have to be up there. They were the peripatetic teachers at my local primary school, but I had the clarinet teacher, Maurice Cowlin, from the age of 7 until I went to music college at 18! And William Bruce on the cello, who is one the most inspirational teachers I have ever met.
Harvey: Yehudi Menuhin, Nathan Milstein, Murray Perahia, Josef Gingold, Franco Gulli, Felix Galamir, all my musician friends and colleagues. The list is endless……!
How did you keep yourself busy during the pandemic-induced concert hall closures?
James: I was "stuck" in Sydney for the whole of 2020, as I was the Principal Clarinet of the Sydney Symphony Orchestra for a year. Although it was such a strange time, we did have a once-in-a-lifetime opportunity to explore New South Wales. I also busied myself by trying to avoid spiders at all costs.
Harvey: Reacquainted myself with my vinyl collection, played duets with my wife on the balcony for our neighbours, fixing things (don't throw things away – it can be repaired!), far too much cooking and baking, and desperately trying and failing not to step barefooted on LEGO!!
What is your favourite music to perform and why?
James: I think I love playing really small chamber pieces, and also the huge symphonic repertoire in equal measure. Playing something like the Brahms clarinet quintet is always an incredibly involved and rewarding experience. Every note you play has to be so sculpted and meaningful. And then there is also something so momentous about being involved in a Mahler 3, or a Strauss opera for example.
Harvey: Anything and everything at the moment. Music and the Arts are the reason for our existence!!!
What music do you enjoy listening to apart from classical?
James: Rather than anything genre specific, I think I've started to listen to a lot of music that was on in my house whilst I was growing up. Things like Tracy Chapman, Van Morrison, The Beatles, Michael Jackson.
Harvey: Jazz.
What do you especially like about the pieces you're going to play at CMF 2021?
James: The Mozart Clarinet Concerto is a bit of a clarinettist's obsession, and I'm no different. It's an overused word, but Mozart was a genius. He wrote the clarinet concerto towards the end of his life, and it's such a "complete" work. The 2nd movement is perhaps thought of as the centrepiece, and is such a popular piece of music, that just never gets old to play. There's romantic moments, lush harmonies, and so much playful detail and dialogue with the orchestra throughout the concerto. It's incredibly challenging, but fun to play.
Harvey: Walker – A new discovery! Stravinsky – a personal favourite! Mozart – The masterpiece for eternity! Tchaikovsky – encompasses all the emotions we have undoubtedly experienced in the last year and a half, and hopefully , an exuberant and energetic beginning to the days ahead!
What's your greatest skill outside music?
James: It's definitely not my greatest skill, but since I've returned from Australia, I've been trying to develop a few more practical skills, and got into woodworking! There something incredibly satisfying and addictive in actually making physical things, so I've been taking on various projects around the house, with varying degrees of success.
Harvey: Cooking, and now – dishwashing!!!
What have you enjoyed watching on TV recently?
James: During lockdown, I think I watched everything. Succession sticks out as a highlight.
Harvey: The Queens Gambit, Ted Lasso, The Good Fight, Chernobyl.
You're hosting a dinner for the other artists from this year's CMF – what's on the menu?
James: If there's a lot of the Academy of St Martin in the Fields players there, a few pizzas and beers
on the back of a tour bus would be ideal.
Harvey:
Appetiser : Shrimp Tempura Main: Lamb Pasanda / Pilau rice / Loads of different vegetables Dessert: Creme brûlée Wines: White – Condrieu or Sancerre Red – Margeaux or Romanée Conti (!)